No Charge Maintenance Package

Every new car purchased at Doug Smith Kia receives our 2-Year/24,000-Mile No-Charge Maintenance Package.
This no-charge maintenance package gives every new Doug Smith Kia car owner two years worth of maintenance including oil changes and tire rotations, and offers a 10% discount on parts and accessories.
This is one more reason to choose Doug Smith Kia when you are looking for a New Kia for sale in Utah. Buy a New Kia without the hassles. When you call or visit Doug Smith Kia, be sure to ask about the Customer Care No Charge Maintenance Program.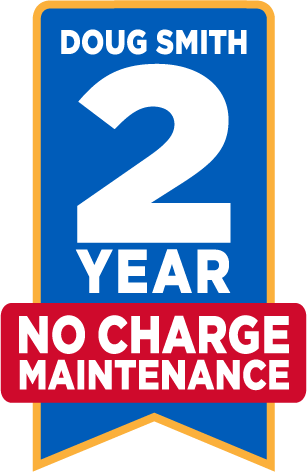 Every New Vehicle Purchase at Doug Smith Kia includes our
2-YEAR NO CHARGE Maintenance Package
    
4 Oil Changes
  
Tire Rotations for the Life of the Tires
   
10% Discount on Parts and Accessories
  
All New Cars sold at Doug Smith Kia receive a No Charge, 2-Year/24,000 mile maintenance package*.
Doug Smith Kia is committed to making your car-buying experience exceptional and stress-free by offering outstanding customer service. Our no-charge maintenance package is a way we can show our customers that we truly care that they enjoy their new vehicle and have a positive experience with our team.
If you have questions about about the 2-Year/24,000-Mile Maintenance Package, please call us at 877-495-4690.
*2-Year/24,000 Maintenance program based on 12,000 miles of driving per year. Tire rotations per manufacturer's recommendations.