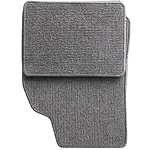 Our team at Doug Smith Kia wants you to be as knowledgeable as possible when it comes to purchasing floor mats and other accessories for your vehicle. While floor mats may not seem important, they're a big accessory to many drivers. Choosing between rubber all-weather mats and carpet mats can be a difficult choice. We're here to help.
Carpet Mats:
• Cost more
• Are available in many colors
• Are available in various thicknesses
• Can be customized
• Are harder to clean
• Look great in luxury and high-value vehicles
All-Weather Rubber Mats:
• Are less expensive
• Are easier to clean
• Only come in a few colors
• Are a good choice if you have children or pets in the vehicle frequently
• Are a good choice if you live in wet climate
Our shop in American Fork has a great selection of floor mats and a qualified team ready to assist you. Pay us a visit when you're ready to see or buy your automotive accessories.