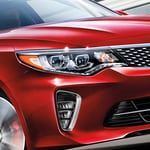 The Kia Optima is a spacious sedan with plenty of features inside and a few luxury touches outside. The navigation screen displays several details that are beneficial while you're driving including a view of the area behind your car when you shift in reverse.
Bucket seats in the front and rear of the Optima provide comfort for long rides in American Fork. A forward-collision warning system notifies you if there is anything crossing your path. One thing to keep in mind is that the SX trim is no longer available for the Optima.
If you need to haul a lot of cargo, then you'll enjoy the spacious interior of the trunk. AndroidAuto and Apple CarPlay are features in the car that allow you to communicate through messages or calls. You can also listen to music, view maps, and explore driving aids that can keep you safe on the road. Doug Smith Kia can program some of these features for you and delete those that you might not need.